Letterbox World NZ™ 2010 Ltd
is a 100% New Zealand owned and operated family business established in 1996.
It is well known that a full or overflowing letterbox attracts criminals as this generally indicates the home is empty.
Concerns over identity theft vis stolen mail are very real.
Our letterboxes not only provide security against theft, but will keep your mail safely out of sight and protected from the wind and rain.
Our letterboxes hold a large quantity of mail including A4 envelopes and extra large newspapers.
All our letterboxes come in a wonderful range of colours, have a reflective panel and the the house numbers of your choice.
Locking letterboxes come with two keys.
Order Now!!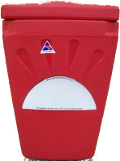 Postie Junior
Postie Junior Our smallest letterbox at 488mm high, 320mm wide and 156mm deep.
Read More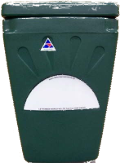 Postie Supreme
A large letterbox that will provide extra storage if required at 685mm high, width 445mm and 369mm deep.
Read More
Made from high impact polyethelene - maintenance free, colour fast and UV resistant
Will never rot or rust
Has no sharp edges
Will deter late night pranksters and vandals
Can be attached to posts, fences, brick, block and concrete walls